My challenge is to create a better life for myself, starting today
I'm making the commitment in public, on this website, because I feel it will help me to not give up but also it may help some people too.
What I aim to do is to get in shape, increase my earnings and generally become a better version of what I am today. I'm not getting any younger and feel that NOW is the right time.
How it all came about really was going through The 4% Challenge. This is an online training program that teaches how to have the right mindset to succeed and also teaches how to create the BEST business that suits your skills and lifestyle.
It teaches how to break out of your comfort zone to provide value to others. This value will always be returned to you over time, whether financial or in other ways. It's a natural law that will never change.
Health
Although generally quite healthy, my weight has been yo-yoing for many years. Fortunately things are going in the right direction again and I'm 50+ pounds lighter than I was.
This photo shows just how overweight I was compared to now: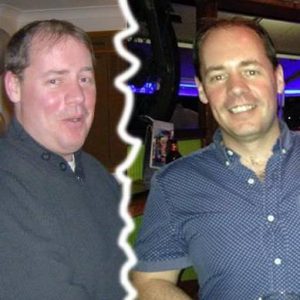 My aim for a healthy weight is 11 Stone 6 pounds (160 pounds). So I have 11 pounds to lose to reach that target.
Increase My Earnings
I believe success, whether financial, in business, or just in life cannot be compartmentalised. If you want to become a success at one of them, then you really need to carry it over to every part of your life.
I got this from Chris Winters, who is a 7 figure Pay Per Call marketer.
So the aim is to increase my earnings by starting new online income streams. These will consist of list building, affiliate marketing and probably creating some of my own products too.
I will document everything so that you can just copy what works (if you wish) and learn from what doesn't work.
My aim for earnings from these new income streams is initially $100 per day on autopilot. When reached I'll add a new goal…

Summary
So that's it in a nutshell.
There will be lots of new content being added to this blog, YouTube channel and Instagram. I hope that you find it useful and can hopefully make a difference in your life just as it will be doing in mine.
Here's to creating Tony Newton V 2.0!