This is what I consider to be the best affiliate marketing business model that you can use right now in 2020.
Bold claim I know. But it combines all the necessary pieces you need to really succeed as an affiliate marketer.
This video has all the details:
Your job, as an affiliate, is to set up all the pieces and then you can focus on driving the traffic.
Once everything is in place, you can put your marketing hat on and start generating pieces of content to share on the various social media platforms.
Here's the model again for your reference: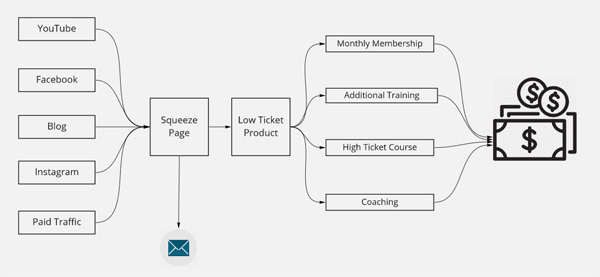 Let's do a quick overview, from left to right:
Traffic – You get free or paid traffic from any platform you prefer. Whether it's YouTube, Facebook, Your own blog, Instagram or paid traffic. You send this traffic directly to your squeeze page.
Squeeze Page – This is where you give something away for free, in return for an email address. This email address then gets added onto your email software (Aweber, Getresponse, Active Campaign etc) and you forward the visitor onto your Low Ticket Product sales page, via your affiliate link.
Low Ticket Product – This will be a product that will generally be priced $1-$20. It's a low barrier to entry for the marketing funnel.
Other Products – Once they buy, they will be presented with other products from the same company. If they buy any other product, you then earn a commission for those sales too.
That's where the power of this system really comes from 🙂
When you implement it, you'll get sales coming in on days where you haven't even promoted anything. All because you're using a business model that just plain works!
So that's, what I consider to be, the best affiliate marketing business model you can use right now in 2020.
All the best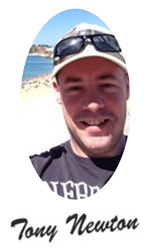 Become a ZAPPER Today!

VIP Updates, Exclusive Tips and Motivation Delivered FREE to Your Inbox.