So, I woke up Saturday morning and did the usual thing of checking emails, website stats, rankings and see if any money came in overnight.
I happened to log into my ClickFunnels™ account to check on some funnel stats and noticed this:

I'd made $157.60 in commissions overnight.
Now I'm not actively promoting ClickFunnels™, sending any paid traffic to it and only have links to it on this blog.
So I wondered what that payment was for.
After 10 minutes of digging around, I discovered that they have just released a new product. And because I have sent people via my link to their site before, someone purchased the new product and I got the commission.
I didn't even know about the new product, let alone promote it in any way.
Which brings me onto the point of this post…
How To Earn More Money As An Affiliate For Doing No More Work
Catchy title eh? !!
With the traditional affiliate marketing route, most people will send traffic to an offer. If someone purchases they get a commission. If they don't purchase, you never see them again.
But on top of this, if they purchase something else from that same product owner further down the line, you probably won't get commissions for any other sales. The product owner could just use their own payment buttons and keep 100% of any further sales.
This is the #1 reason why people struggle to make money as an affiliate.
With costs of Pay Per Click and Facebook ads rising all the time, the commissions are just too low to make it work.
So what is the answer?
Choose to promote companies that have their own eco-system.
So once you send a person to their site via your affiliate link, they are hard coded to YOU. Anything they purchase from now on, YOU get the commission.
Just like I did with ClickFunnels™ above.
Getting paid for multiple purchases allows you to spend more on paid traffic. And the person who can spend the most money to acquire a customer always wins.
When you do this, you get payments coming in without doing any extra work at all.
More importantly, it means you can focus on driving more traffic and become a better marketer.
Here are 2 companies that have insane eco-systems you can start with right now (Both can be promoted WITHOUT you even having to buy their products or become a paid member, although it is always recommended to do that):
#1 – ClickFunnels™
ClickFunnels™ has more than 10 products in their eco-system including the recurring monthly membership of their funnel builder.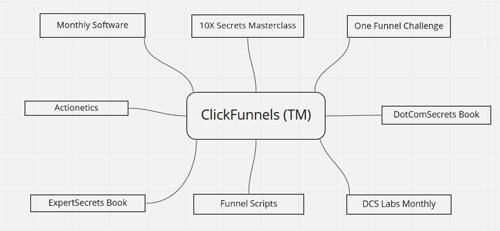 So you can get paid a passive recurring monthly amount, along with commissions from people who buy other products from within the site.
==> Check Out ClickFunnels™ Here.
#2 – Four Percent
The Four Percent focuses on 4 main core products. But the difference is that a high percentage of people who go through their main product The Four Percent Challenge will pick up the other core products too.
But it gets even better…
The eco-system promotes third party tools also, including ClickFunnels™, Getresponse, ClickMagick and lots of others.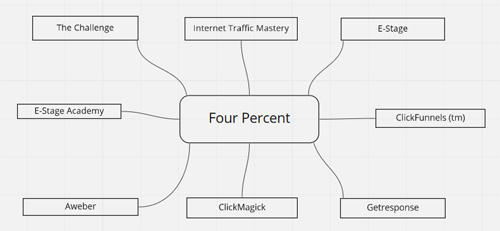 And when someone signs up to any of those tools after clicking through from the members area, it uses YOUR affiliate link.
So not only do you get paid when people buy the Four Percent products but you get paid when people buy third party tools too.
Which is insane when you really think about it.
One person can literally be worth $600 in commissions PLUS monthly recurring amounts from the third party tools.
When you figure out the numbers, you now have an incredible advantage when it comes to driving traffic into their business.
==> Check Out Four Percent Here.
Summary
So the moral of this story is…Never promote products that only pay you one time.
That's what most affiliates are doing and why they are finding it difficult to get traction.
Be smart and promote companies that will pay you multiple times for the same amount of effort.
Hope that helps!
Become a ZAPPER Today!

VIP Updates, Exclusive Tips and Motivation Delivered FREE to Your Inbox.